3 Easy Steps to Customize Pet Shaped Pillows
Choose Sides of the Prints

For double sided prints, we offer options to have a pet image on both sides, or pet image and your choice of color, or pet image and color with text as options. Single side pet shaped pillow will have white solid color at the back of the pet print.

Personalize As You Like

We recommend use of high resolution images that you can zoom and choose what part of the photo you would want the pet shaped pillow to look like. Also the backside customization options makes your Pet Shaped Pillow 100% unique.

At Your Doorstep

Using our easy approvals option, you can preview the image of the custom pet shaped pillow before it gets shipped to you. We can personalize this as a gift and deliver it to your choice of destination.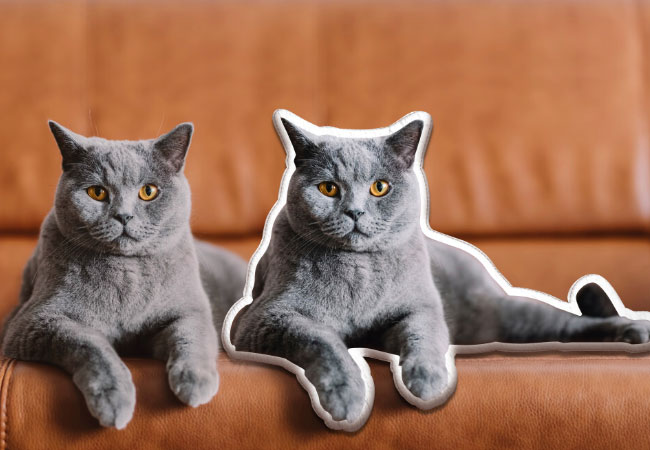 Custom Pet Shaped Pillows: Durable and Hygienic
We know you care about your pet, and these pillows deserve the care, too.
Therefore, we ensure that pillows are durable and made with comfortable materials. Our custom pet shaped pillows are made with 100% polyester and come with a removable cover and their own throw pillow. We aim to help you keep your pet shaped pillow clean and last for years. Afterall, we would like these pillows to be around for every stage of your pet's growth.
These pillows are easy to maintain and are great for those that are hygiene conscious. The zippered covers make it easy for you to clean your custom pet shaped pillows with the rest of your laundry, and you don't have to worry about the image fading away.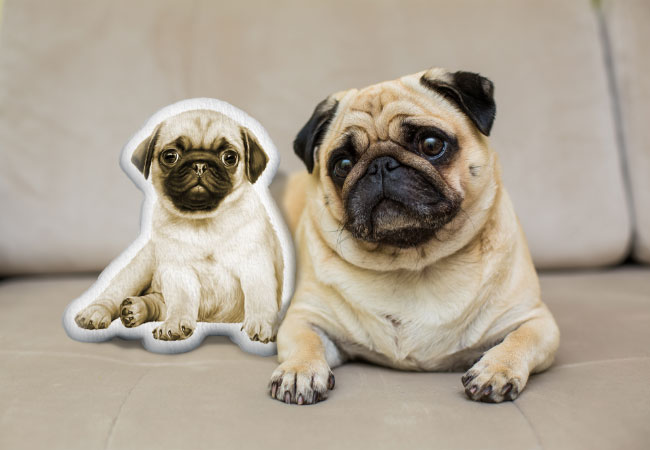 You're Going to Love Your Custom Pet Shaped Pillow
At My Pet Crew, our priority is the happiness of our customers. We are always looking for ways to improve our service even more! We're here to make sure you love everything about your pet photo pillows. You'll love the pillows or we'll refund the money.
×
Size Guidelines (in-inches)
Size is based on the longest side of the pet in the photo
10 in

12 in

14 in

16 in

18 in

20 in

22 in

24 in

26 in

28 in

30 in
×
Side Guide
The single side print would have the pet print on front side of the pillow and while solid color on the back side. The double sided print would give you multiple options to choose from:
1) You can have the pet print on both sides of the pillow. You only need to upload one image and it will be mirrored on both sides of the pillow.
2) You can have the pet print on one side and choose from one of the solid color options we offer. You can also choose to write your choice of text on this side.
Single Side Pillow

Double Side with Custom Color

Double Side with Custom Color & Text

Double Side with Mirrored Images