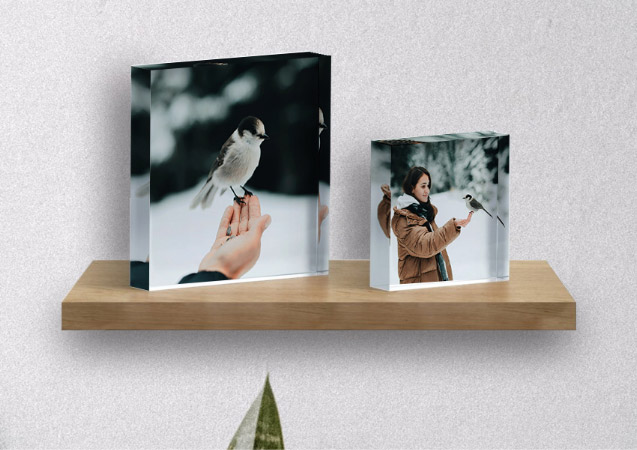 Custom Pet Acrylic Photo Blocks Make Amazing Gifts
Our acrylic photo blocks bring your photos to life with a vibrant look and additional color depth. Our acrylic blocks bring elegance to your pet's portraits and even make for thoughtful gifts for friends and family that are pet owners.
Custom Pet Acrylic Photo Blocks Are Easy to Design
We make it easy for you to create your own acrylic photo block using your pet's photos.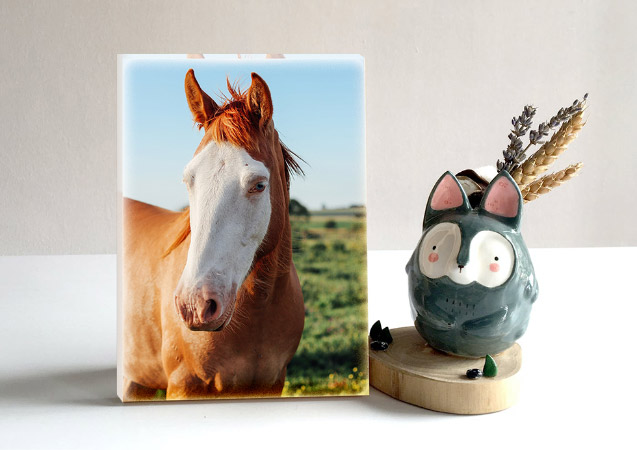 You don't have to be an expert designer to create a masterpiece. Our simple design tool allows you to transform a regular portrait of your pet into a coffee table masterpiece.
We make it easy to get started. Simply begin by uploading your favorite picture — you can choose photos from your social media accounts, Google Drive, or your computer drive. Choose from various sizes, layouts, and color options to make your custom pet acrylic photo blocks a "must-see." Personalize your creations with text, or clip art. Our design tool makes designing fast and fun!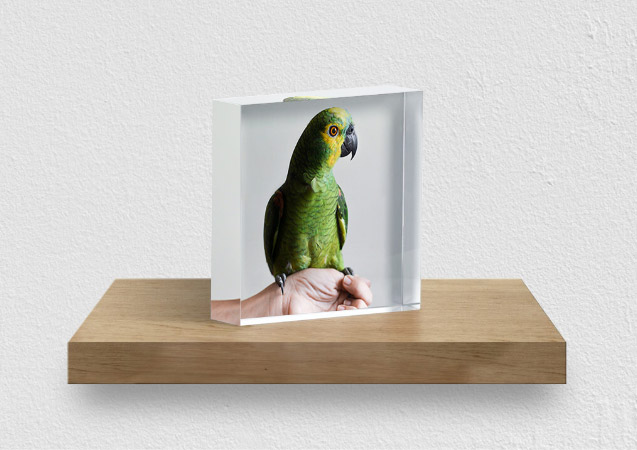 The sturdy, scratch-resistant acrylic glass maximizes longevity. While substantial enough to stand on its own, add a reflective base to further spotlight the beauty of this unique piece of art.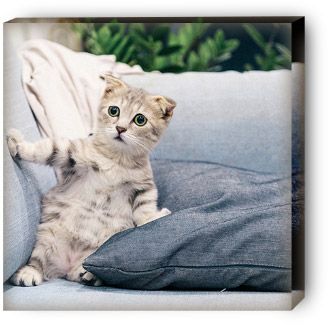 Keep in mind, our acrylic photo blocks are thick and filter the light, so you'll want to choose photographs of your pet that are high in contrast or feature heavily saturated colors. A well-lit photo will ensure that your acrylic photo block is as close to perfection as possible.
Features You'll Love!
Our pet acrylic photo blocks come in 12 different sizes to best fit your photo choice – whether it's vertical, horizontal, or square. Our acrylic block photo printing gives you high resolution for sharp images in sizes that range from 4 x 4 inches up to 8 x 12.
4" x 4" Acrylic Block

5" x 5" Acrylic Block

6" x 6" Acrylic Block
Features
High-quality prints face-mounted onto sturdy 0.75 Inch acrylic glass bring maximum vibrancy and depth to your images. The polished surface will keep your acrylic blocks looking fabulous for years to come!
Backing that Works
We finish our personalized acrylic blocks are with a black backing that keeps light from shining through the back. Vibrant details are highlighted through the block's crystal-clear front and sides.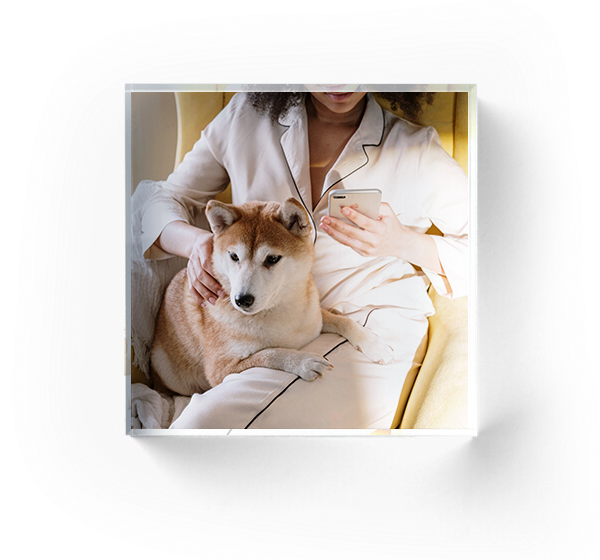 Make Lasting Memories With Custom Pet Acrylic Photo Blocks
Whether you're creating a photo block to showcase your pet's photos as home decor or creating a sentimental gift for the pet lovers in your life, our blocks are one of the best ways to protect your most treasured photos.
Our striking personalized photo blocks are lightweight, but durable enough to last a lifetime. No matter where you go, you can take your photo blocks with you over the years.